This is the why mediguru page
Simple yet Powerful Convenience​
Peace of mind delivered via state of the art modern Healthcare
Convenience
Meet your healthcare provider on any device from anywhere, no downloads or installs required
Total Privacy
We take privacy and security seriously and are HIPAA compliant from the ground up
One Click Access
Start your appointment with fast access right from your phone or computer
Purpose Built / Enterprise Class
COVID-19 fueled unprecedented demand for virtual care and healthcare providers adopted readily available solutions to serve a tactical need. McKinsey Research estimates that 90% of the existing virtual appointment implementations used generic communication platforms like Zoom, RingCentral, Webex, Skype etc. These implementations might not be healthcare secure nor HIPAA compliant. The experience could be complex and care teams have a hard time adopting them.
MediGuru® was purpose built with workflows that were co-designed by care teams to integrate into your existing practice providing the same level of in-person experience. Our innovative solution is simple to use, offers a superior treatment experience that elevates your Care Outcomes while decreasing the cost to implement.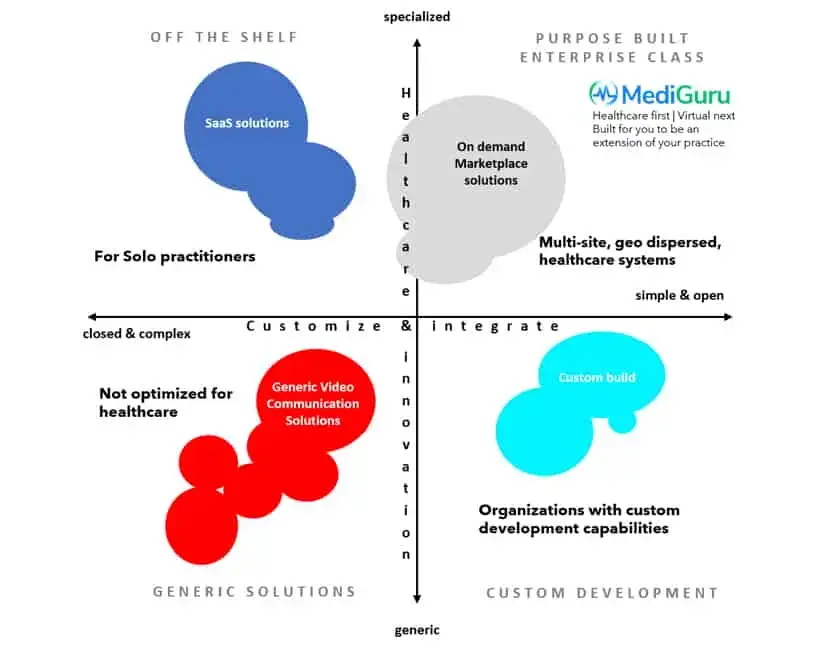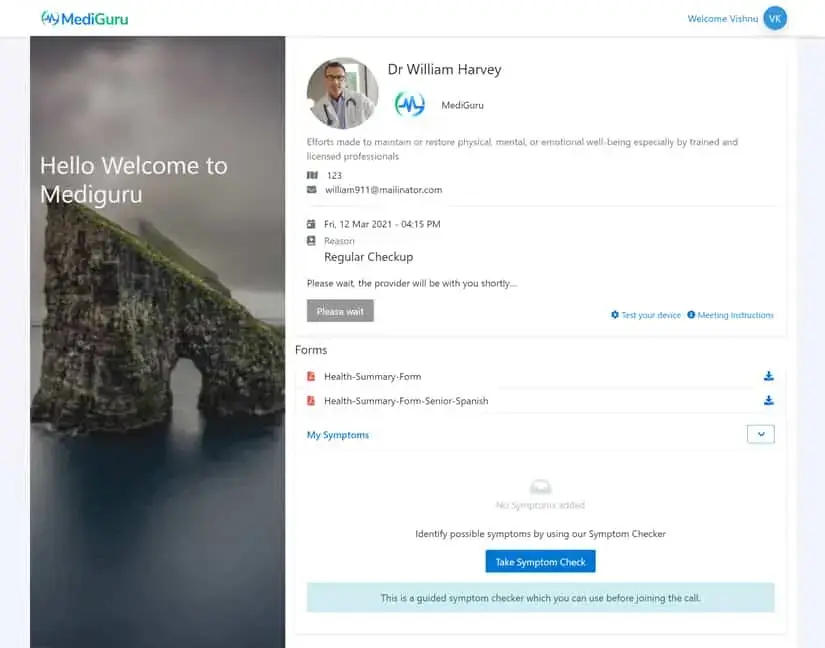 Patient Experience with Empathy
The patient receives a simple meeting link (URL) that works only for them and auto-expires, thus maintaining confidentiality and security. The remote patient is welcomed into a virtual waiting room, just like being on-site, where they can utilize AI-driven intake forms and e-triage symptom checker before being greeted by a medical assistant.
Care Team Experience
Only solution in the market that has a Medical Assistant workflow. Our proprietary workflow enables the medical assistant to prepare the patient and take care of administrative details before the doctor is virtually paged.
A Care Team dashboard functions like an activity controller and provides a wholistic view of the virtual care queue. The Dashboard ensures the patients are always attended to in a timely manner by listing all virtual appointments in the queue, status of the patient as they move through this virtual care journey and all the completed activities.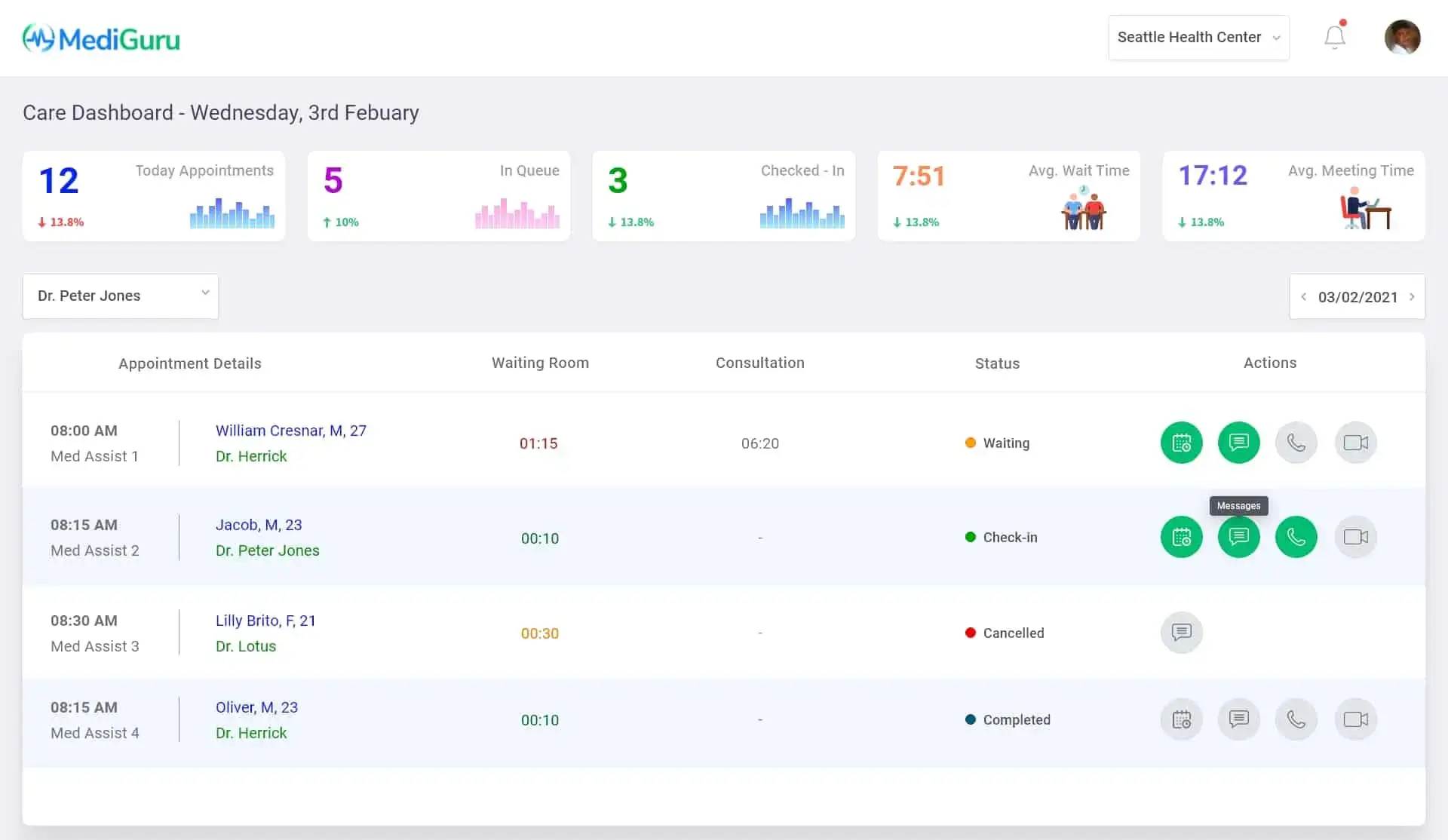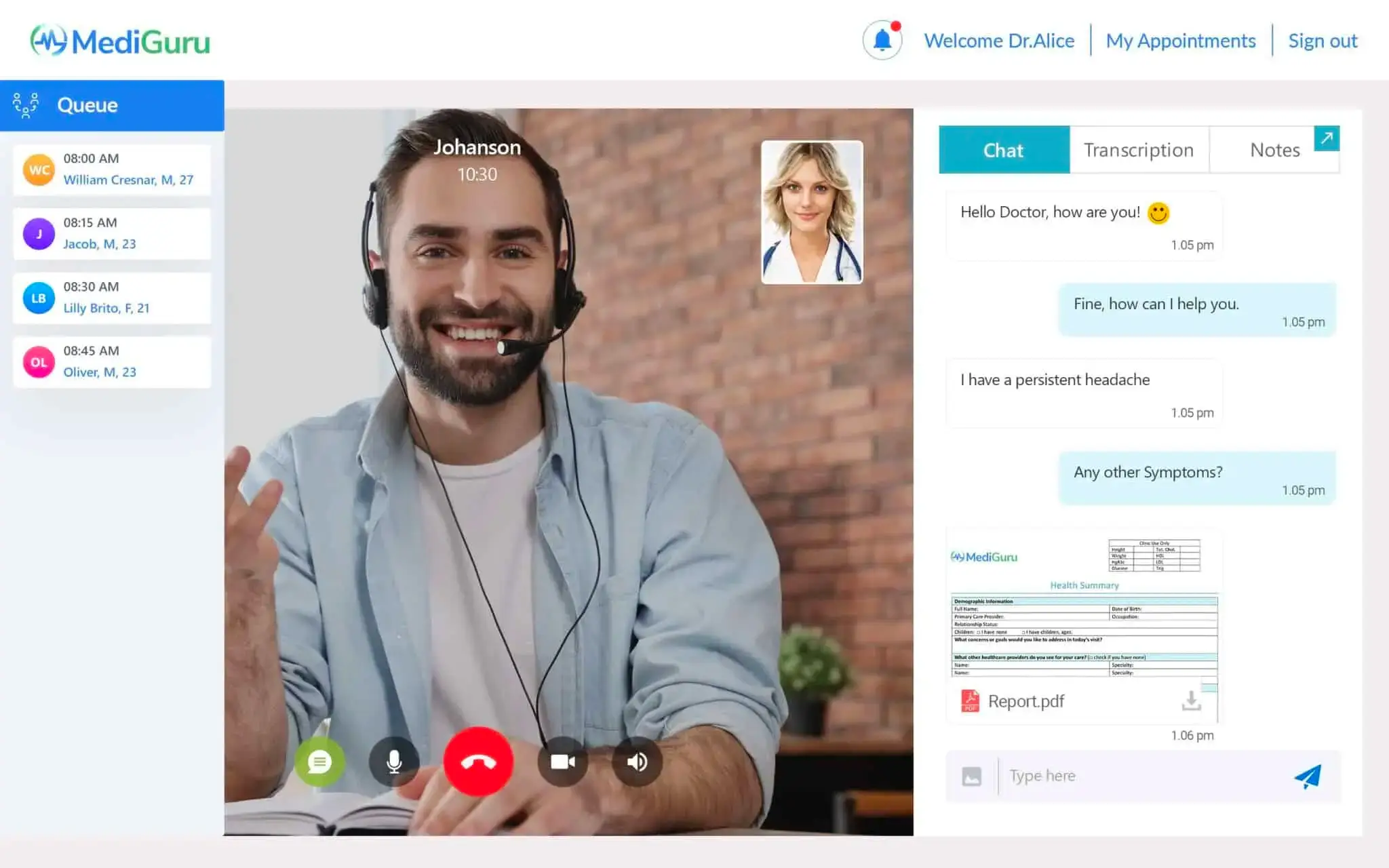 Provider experience
A frictionless and simple experience for the providers will ensure greater adoption as well as efficiency in driving care outcomes. Co-developed with industry experts and care-teams, we provide an all-encapsulating experience that is customized to the activities a provider will need while conducting a virtual triage.
Starting with a high-fidelity video that supports group calling up-to 8 people, the communication window is enhanced with chat and file sharing capabilities. Other activities include a patient queue to list out upcoming appointments, a free form notes to enable charting and our proprietary virtual scribe.
The virtual scribe allows the provider to record the conversation, auto-transcribe, apply medical taxonomy to the conversation, thus allowing for accurate charting during the consultation. This saves multiple hours of charting for the providers post appointment. All of this is saved in JSON format and is auto saved to your EMR.
As part of our roadmap, we will provide a Medical Dictation service as well as ML driven CPT code deductions.
Virtual Care JUMPSTART Offer
If you want to find out more, such as the apreehealth journey above, we can have a conversation and/or demonstration of our unique differentiator!
ENVISIONING
We will help scope & define your long-term virtual care implementation Roadmap.
We call it your "Digital Front Door"
Commitment of MediGuru Resources (Healthcare Business Architect, Account Manager, UX Designer)
SANDBOX
Within 4 weeks, we deliver a sandbox environment for you.
Care-Team experience
Patient waiting room
Telemedicine experience
Commitment of MediGuru Resources (Healthcare Business Architect, Azure Technical Architect/Lead, Account Manager, UI Engineer, Cloud BE Engineer)